Famous Western Movie Lines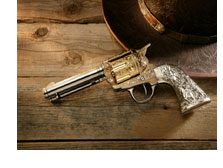 " class="fb_share_button" onclick="return fbs_click()" target="_blank" style="text-decoration:none;">Share
Well, I'll reckon famous western movie lines can be infamous. Cuz' here you'll find some plum mean villains saying some of the maddest darn things. Some others is simple folks with hearts o' gold.
A maverick hero during the wild west was usually a lawman, a cowboy, territory marshal, military officer, or just a gunfighter. Tough, independent, fearless. Characters of honor and principle. Willing to face any danger in a hostile environment all alone.
As for villains of westerns, well you'll never be quoted such a sore, low down, foul mouthed bunch of stinkin' wretches in all your life! These greasy scoundrels are some of the filthiest scum belly's this side of Dodge. It really don't matter none, all these western movie lines are nuggets of gold! I'll be...
A Fistful Of Dollars Movie Lines
Breakheart Pass Movie Lines
Dances With Wolves Movie Lines
For A Few Dollars More Movie Lines
Hangem High Movie Lines
High Plains Drifter Movie Lines
Joe Kidd Movie Lines
Open Range Movie Lines
Tombstone Movie Lines
The Good The Bad And The Ugly Movie Lines
The Outlaw Josey Wales Movie Lines
Two Mules For Sister Sara Movie Lines
Seraphim Falls Movie Lines
Unforgiven Movie Lines
Top of Famous Western Movie Lines